Business
Families say they forked out thousands of dollars to fix problems caused by pool installer
Content item
They dream of having a backyard pool this summer.
Content item
Instead, they were left with the shell of a pool in their yard and say they're out of pocket nearly $80,000 after the contractor split.
They're not alone in their dissatisfaction.
Complaints are piling up about a London-area contractor, who at least four customers allege left them high and dry — the work either not completed or not done to their liking — after they hired him for backyard pool installations.
Krista Peters of Strathroy said she and her husband have had to hire another contractor, adding about $80,000 to their costs, to finish the installation left by London-area contractor Morgan Stinson, whom they say they've repeatedly tried to contact to finish the work .
Their pool will soon be complete, but the final bill — roughly $160,000 — is nothing they saw coming, Peters said.
Content item
"So we've invested $78,000 in this and now it's costing me another about $80,000 or $90,000 to finish my pool because we're having to clean up his mess," she said.
Peters, who said she plans to take legal action, said the headaches for her family began shortly after hiring Stinson.
The pattern was simple: He would ask for money for a portion of the job, but little progress would follow.
"We've paid him $78,000 and he came three times," she said.
She said the money was paid in several installations, and the agreement was that the pool would be completed by April of this year.
Peters said by March it was clear the pool would not be finished on time. Peters said she began growing more worried when Stinson stopped answering or returning her calls.
Content item
"We tried to figure out what . . . was going on, but every time we talked to him, he blasted us," she said.
In an exchange via text messages reviewed by The Free Press, Stinson insults Peters, at one point saying, "I would never finish your job if my life depended on it."
"You sack of s—," reads another.
Mary-Anne Pratt, who lives in Dorchester, said she had a similar experience with Stinson.
She said Stinson would ask for a large sum of money, but then would "disappear for weeks on end."
"He's real nice and collects a whole bunch of money upfront. . . and then he never shows up," Pratt said.
The extent of the issue goes beyond the unfinished work, said Pratt, who also said she plans to take legal action.
"Everything he did, we had to redo; he put the pool in wrong, it's not even in straight and everything else was a disaster."
Content item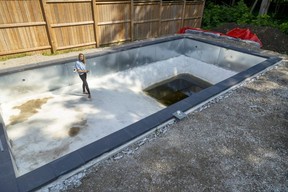 Stinson declined to comment for this story, backing out of an interview the morning it was scheduled after earlier agreeing to discuss the allegations against him.
The phone number customers had for Stinson is no longer in service, The Free Press has discovered. He appears to have no business website or Facebook page, but one customer said he previously had both.
When The Free Press went to Stinson's Ilderton-area home to seek comment, he was not there.
Paul White, owner of Dorchester Pools, who has finished four jobs started by Stinson, said he's found issues with the incomplete projects, such as crooked walls, lights installed incorrectly and improper drainage.
"I could probably nitpick a whole bunch of little things, but all in all, I just think the amount of money that he takes, comparative to the amount of work that gets done, doesn't coincide with each other," he said.
Content item
Pratt estimates Stinson owes her family about $20,000 in extra work they had to do for the pool and backyard. She still has some of Stinson's tools in her house.
"He's welcome to his tools once he pays us all back," she said.
Two other residents in the London region have launched lawsuits against Stinson over similar complaints, court records show.
One of the lawsuits was decided in February against Stinson through default judgment—meaning he didn't offer a defense—and Stinson was ordered by a judge to pay more than $70,000 in damages.
The plaintiff in the second lawsuit, still before the courts, is seeking $150,000 in compensation.
Demand for pools exploded at the onset of the COVID-19 pandemic, as people looked for alternative forms of entertainment at home amid lockdown and restrictions that limited travel.
Content item
With in-ground pools such a major investment, consumer groups like the Better Business Bureau recommend doing your homework before locking in on a contractor.
That includes checking references with friends and family who have had pools installed or work done on them, looking for accredited contractors to choose from, comparing prices and ensuring that the company you choose is insured against damages if something goes wrong during the installation.
"We know that, in general, when something is in super-high demand or there's a scarcity of it. . . those are opportunities for people to take advantage of people desperate for a product," said Jennifer Matthews, chief executive of the Better Business Bureau for Southwestern Ontario.
Content item
"So do some research and don't rush into anything."
Finding companies that could complete pool facilities was challenging last year because of the heavy demand. But Peters said she thought she had done her due diligence after Stinson was recommended to her by Highbury Pools, a distributor of pool kits in London.
Brian Jewell, owner of the company, said his company has a list of contractors to whom they supply products and Stinson was likely on it.
"I guess maybe we've suggested him because we thought he had some availability. . . (and) that would have been before we were made aware of any trouble he's gotten into," said Jewell, adding Stinson, a mason by trade, was a "new to us" and began buying from them in late 2020.
"I've seen jobs that he has finished, so I don't know that it's been all bad."
Twitter.com/JuhaatLFPress
Editor's note: This story has been updated from its original version.