Technology
Where To Pre-Order Mario + Rabbids Sparks Of Hope On Switch – Best Deals And Special Editions
Thanks to the latest Nintendo Direct Mini: Partner Showcase, we finally have news on Mario + Rabbids Sparks of Hope's release date: it'll launch on Switch on 20th October 2022.
Those who remember the game's reveal trailer from last year will know that Sparks of Hope looks set to give fans of the original Mario + Rabbids another fantastic helping of strategy-focused goodness. If you're already sold on the premise of a sequel, you'll be pleased to know that pre-orders have already started to appear – and that there are some special Gold and cosmic Editions available, too!
We'll be keeping this page up to date with all the best offers as and when retailers decide to drop them. Make sure to bookmark this page and keep checking back, or grab a pre-order now from the options available below.
Pre-Order Mario + Rabbids Sparks of Hope In The US
Here's where you can grab a copy of the standard game in the US. For a limited time, buying the game from Best Buy will also net you a $10 Best Buy voucher!
Pre-Order Mario + Rabbids Sparks of Hope In The UK
The first listings for the game have also started to appear in the UK, with some options already well below RRP:
Mario + Rabbids Sparks of Hope Special Editions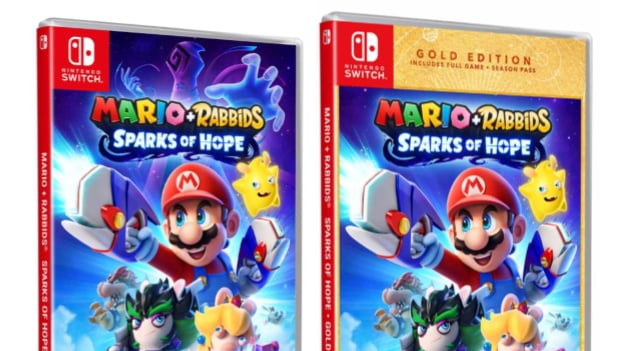 As well as the standard release, it appears that Mario + Rabbids Sparks of Hope is being treated to a couple of special editions. If you want to treat yourself to something a little more fancy, you're in luck…
Gold Edition
The Gold Edition includes the base game, a Season Pass (which contains upcoming DLC ​​packs, including additional story content featuring a new character, quests, and battles), and the Galactic Prestige Collection (three exclusive weapon skins, unlockable right away). Pre-orders have opened below:
Cosmic Edition
There's also a cheaper 'Cosmic Edition', which comes with the base game and the Galactic Prestige Collection mentioned above. It's basically the Gold Edition but without the Season Pass:
Are There Any Pre-Order Bonuses For Mario + Rabbids Sparks of Hope?
Some stores are offering The Megabug Collection as a pre-order bonus – a set of 9 weapon skins that will let you "fully embrace your dark side and change the look of your weapons in-game".
The stores already confirmed to be offering this pre-order bonus are…
US: Ubisoft Store
UK: Amazon, ShopTo, GAME
Get Ready For Mario + Rabbids Sparks of Hope
If you can't wait for Sparks of Hope to arrive and want to see what the series has to offer, you can often find a good deal on the original game. Here's where you can pick up the first Mario + Rabbids game, Kingdom Battleas well as the title's Gold Edition which comes with DLC included:
---
Are you looking forward to this latest Mario + Rabbids game? Let us know if you're planning on buying a copy with a comment below.